High Growth IT Services Company Utilizes CPI 260 to Achieve Talent Management Objectives
Posted 10 May 2016 by
Global Marketing
Iris Software has emerged as one of the fastest growing small business IT companies in its industry today, with revenues clocking a compounded annual growth rate of more than 35% in the past three years. Headquartered in Edison, New Jersey, Iris also has offices in New York City and Stamford, Connecticut; and an offshore development center in New Delhi, India, all of which lend to their round-the-clock support abilities and global, diverse employee base.
In the areas of high quality solutions to cloud management, application development and support, testing and QA, product engineering and other IT integration services, Iris Software counts among its long-time clientele companies including Ernst & Young, PepsiCo, TD Ameritrade, Barclays, Nomura, Thomson Reuters, Johnson & Johnson, Synthes, KPMG and HSBC, and more, including 25 of Fortune 500 companies.
Supporting Fortune 500 customers while growing at such a rapid pace mean high demands placed Iris Software's HR team, among which selecting the right talent for leadership roles, refining hiring strategies based on data and ensuring adequate succession planning initiatives are key challenges to be addressed. Iris Software recently integrated the CPI 260® assessment into their leadership development plans and found success not only in the objective, data-based results and in-depth reports that the assessment provided, but was also able to increase their employee engagement and the efficiency of their hiring process with the tool.
Take a look at the case study below to learn more about how Iris Software utilized the CPI 260 to aid them in achieving their talent management objectives.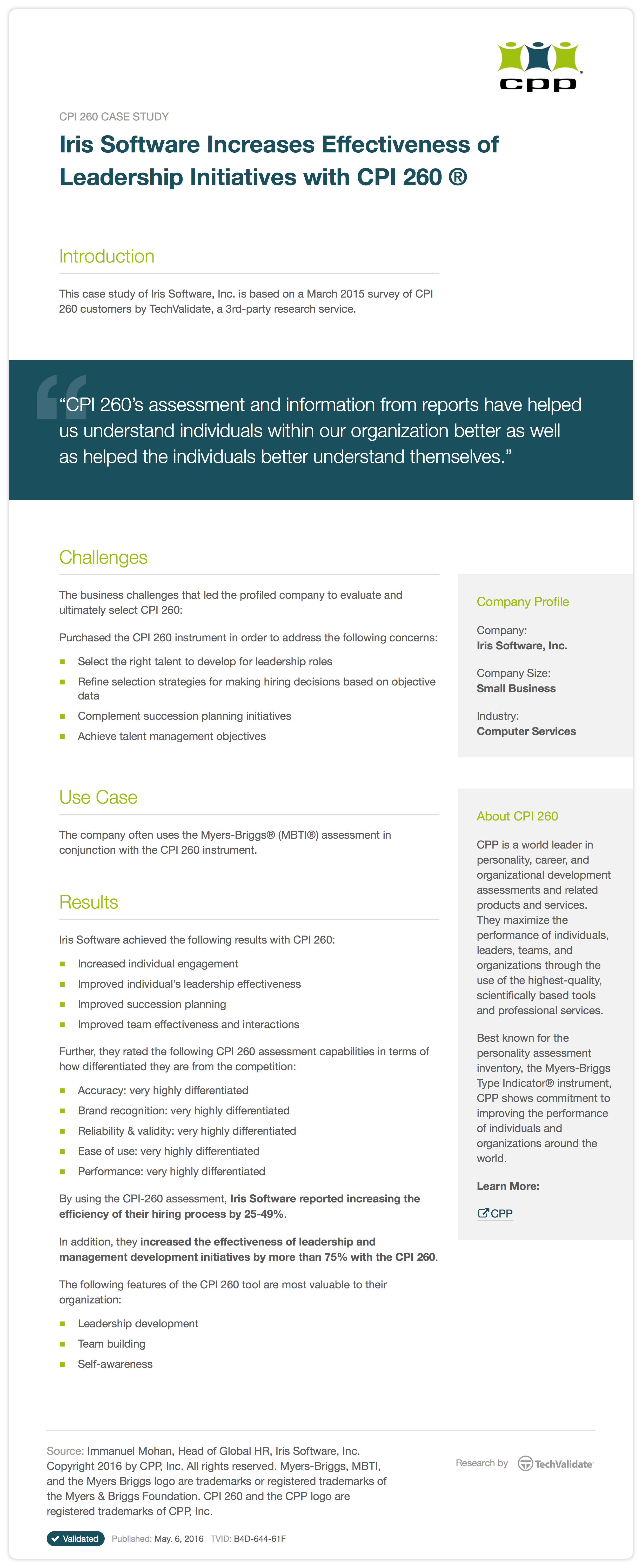 Learn more about the CPI 260 assessment, view case studies and videos and download sample reports at https://global.themyersbriggs.com/en-US/Products-and-Services/CPI.
Learn more about Iris Software at www.irissoftware.com.
To get more in-depth information about the CPI 260 assessment and how it's used in leadership initiatives, download the CPI Leadership Playbook here. TechValidate is a third party research firm that collects information from verified CPP customers, checks the accuracy and authenticity of the data and publishes statistics, deployment facts, and the unfiltered voice of the end-user, without any editorial/analyst commentary, to a research portal open to the public.