Transforming business
into a force for good
Imagine a world where all stakeholders — not just shareholders — are valued and prioritized
B Lab, certifying body for B Corp
For decades, most businesses have been driven by profit maximization and shareholder accountability—and not much else.
Looking at the world around us, the results of this single-minded approach aren't great. It can lead to people being excluded, communities being exploited, and environments being damaged or even destroyed.
But there is a better way. A socially-responsible way.
It's called B Corp.
And we're part of it.
Being a Certified B Corp is a designation that means that a business is meeting high standards of verified performance, accountability, and transparency on factors from employee benefits and charitable giving to supply chain practices and input materials. In order to achieve certification, a company must:

Demonstrate high social and environmental performance by achieving a B Impact Assessment score of 80 or above and passing our risk review. Multinational corporations must also meet baseline requirement standards.
Make a legal commitment by changing their corporate governance structure to be accountable to all stakeholders, not just shareholders, and achieve benefit corporation status if available in their jurisdiction.
Exhibit transparency by allowing information about their performance measured against B Lab's standards to be publicly available on their B Corp profile on B Lab's website.

As leaders in the movement for economic systems change, B Corps build trust with consumers, communities, and suppliers; attract and retain employees; and draw mission-aligned investors. As they are required to undergo the verification process every three years in order to recertify, B Corps are by definition also focused on continuous improvement, leading to their long-term resiliency.

Years ago, a mother and daughter had an audacious dream to change the world for the better. Their belief, that understanding yourself and others would provide a path to better lives for all, resonated with our founder, Dr. Black. He believed in the importance of a company's purpose. And he was ahead of his time in his emphasis on the growing importance of a company's approach to doing business:

"The Company image will become much more important but this image will not depend simply on the quality of its products or services or whether its prices are lower, but on a whole complex of other factors as well, such as its treatment of employees, its vigor in minority hiring and promotion, its freedom from exploitation of undeveloped countries, its efforts to conserve natural resources and prevent pollution, its own ethical standards and its commitment to solving social problems."

-Dr. Black, Founder of The Myers-Briggs Company (formerly known as CPP)

Our commitment includes providing socially-sound, high-quality products and services in an environmentally responsible manner.

And that purpose resonated with the B Corp mission: using business as a force for good.

So alongside 5000 companies, in almost 80 countries, across 154 industries, we became a Certified B Corp to be part of a global movement of for-profit businesses building an inclusive and sustainable economy that works for everyone.
Using our business as a force for good has been an employee led initiative. And that's part of the beauty of it – our actions form a tapestry of our own people's passions.
Jeff Hayes, President and CEO of The Myers-Briggs Company
Annual Benefit Report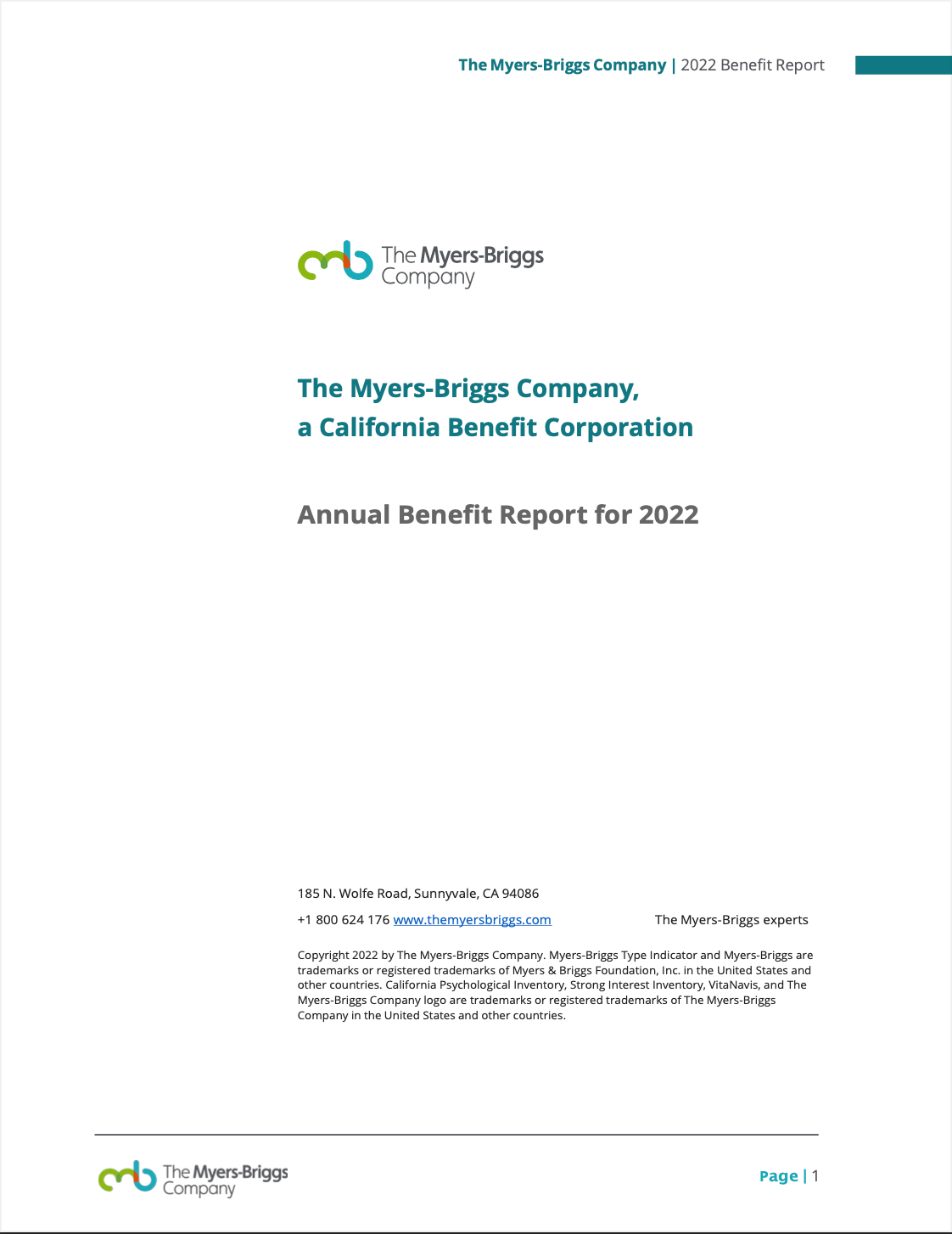 Learn details of how The Myers-Briggs Company positively impacted our employees, community, and planet in this in-depth report.
As a B Corp, here's where we focus our business
People
Whether it's the people who work for us or those who need help from us, our company mission is to inspire everyone to lead more successful and fulfilling lives. When we focus on people, we make a positive impact for our employees, our customers, and our community.
Our people-focused initiatives include:
Paid time off for volunteering

DEI Speaker series

Employee resource groups

Subsidized employee health and wellbeing activities
Planet
We're at a pivotal point for global climate change and reducing our carbon footprint and carbon offsetting are key initiatives for our company. As part of our commitment to a low carbon future we are working hard on the digital transformation of our business. This includes encouraging customers to use electronic versions of our products, reducing paper use and shipping. We also source electricity from renewable sources, limit travel to essential needs, and work to offset carbon where we can.
Our people-focused initiatives include:
Reducing packaging

Increasing digital products and discontinuing physical stock

Increased availability of virtual training
Community
Giving back to the community has been a priority of The Myers-Briggs Company since 1956. The company actively supports the communities in which its employees live and work by budgeting a percentage of earnings to contribute to various causes and organizations.
Our people-focused initiatives include:
Charitable partnerships with local non-profits

Hosting local events to promote B Corp values

Supporting socially-just cases around the world