Free eBooks to Help Optimize Your MBTI® Step II™ Training
Posted 26 July 2016 by
Global Marketing
As you work with individuals to help them improve essential components of their professional development, it is important that they understand how to combine different aspects of their individual MBTI® Step II™ facet results and learn the most appropriate ways for them to flex their preferences. Here are two complimentary ebooks that offer ideas and tips for using Step II results to increase your people's self-awareness and understanding: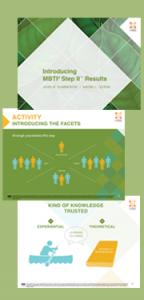 Upgrade your practitioner toolbox with our new "Introducing MBTI® Step II™" workshop facilitation kit. Designed to align with the refreshed Step II product suite and save you prep time, this kit includes everything you need to deliver a high-quality introductory Step II workshop:
Workshop-ready: comprehensive, ready-to-deploy presentation slides and training materials with engaging visuals
Comes with expert guidance: includes facilitator notes with workshop instructions, a recommended script, and more!
All-digital content: conveniently loaded on a USB flash drive
To learn more about this kit and other refreshed MBTI Step II products, view our MBTI® Products Refresh Guide.