A force for good
Everything you need to know about ethical and positive use of the MBTI® assessment
Individuals
Use self-awareness to unlock your potential and improve your relationships
Organizations
Build a people development strategy that aligns with your organizational goals
Educators
Help students find the career pathways that fit them best
Consultants
Expand your expertise and help more clients overcome their challenges
Trusted by companies all over the world
Award winning development
Training Magazine
Training Magazine recognized our contributions to Leadership Development and Measurement, Testing & Assessment in their 2021 Choice Awards.
Business Charity

The UK's Business Charity Awards 2020 celebrated our development work on building resilience.
APB

The Association of British Psychology (ABP) gave our consultants the top prize for Excellence in Change Management in 2018.
Get support with hybrid working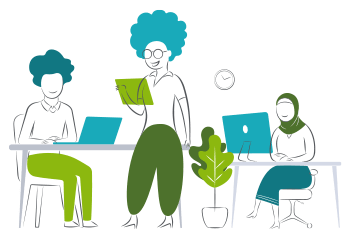 Is your organization struggling with the changing shape of work?
There's a lot to think about. Our research shows that most people want to keep working remotely at least some of the time.
But the preferred amount of office and remote working varies between people. It depends on personality type, home situation, type of role, age, and more. How do you balance these different factors so people can work at their best?
Check our new research and resources to explore these areas—and help make hybrid working a success.
Ebook
Download Psychology of Conflict in the Workplace
Blog
How can you help managers develop an inclusive workplace for employees
Webinar
The Changing Shape of Training
Podcast
Leadership, Extraversion and Introversion
Want to learn more about the power of personality?
Contact Us
Tell us what you need