SFA scholar talks about internship with The Myers-Briggs Company
Posted 15 September 2022 by
Melissa Summer
4 minute read
About DeJohn Thompson & San Francisco Achievers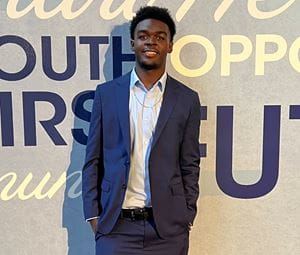 DeJohn Thompson is a college sophomore at Louisiana State University and is part of the San Francisco Achiever's program.
The mission of the San Francisco Achievers is to support African American young men in San Francisco Unified School District to lead and thrive in higher education and beyond by closing the opportunity gap. They do this through college scholarships, leadership training, and mentoring.
B Corp Partnerships
In 2021, TMBC began an 18-month partnership with San Francisco Achievers as part of our B Corp charity partnership program. One of the goals of the partnership was to fund an internship for a San Francisco Achievers college student. Thankfully, we were able to realize this goal in 2022 and hire DeJohn for the internship.
Product Team Internship
DeJohn joined the Product team in early June for a remote summer internship. During his time on the Product team, DeJohn assisted in maintaining the product backlog, supporting the creation of the new global design system, and scaling of B2C products. This internship is the first we've done remotely but it worked really well, despite being virtual, and is a great experience for us to base future, potentially virtual, internships on.
We knew it was a great success from our perspective but wanted to see whether DeJohn felt the same. So, we sat down with him at the end of his internship experience to see what he had to say.
The Myer's-Briggs Company: What was your internship experience like?
DeJohn: It was very eye-opening. I didn't know where exactly I wanted to be in the future. Once I started the internship and jumped into projects, I saw how professionals work and it gave me a new perspective. I really enjoyed getting to work with people in various positions with diverse backgrounds and lifestyles, seeing this motivated me to want to do more.
One of the most rewarding parts of the experience was accessibility—working cross-functionally and getting to connect with the Development team. I really enjoyed observing code reviews, learning how to identify bugs, and creating backlog items. I found it rewarding.
TMBC: What are the next steps in your career path and how will your internship experience help get you there?
DeJohn: I struggled in the past when it came to reaching out and asking questions, and this internship made it easier for me to get out of my comfort zone and speak up. Now I feel confident to continue to push myself to ask even more questions and vocalize my thoughts in all aspects of my life.
What is next for me in my career path is to continue to try new things. As I continue to have more work experiences I will get even more of an idea of my likes and dislikes so I can choose the best career path that will get me where I want to be.
TMBC: What skills, techniques, and knowledge did you learn from this experience?
DeJohn: The greatest lesson I learned is there's always work that can be done to improve my skills and help me learn something new. This experience put me in a growth and self-development mindset, teaching me that all work is valuable and facilitates growth.
I should not limit my interests to one category. For example, I was always interested in helping people and computer science. Prior to this internship experience, I thought those things were separate job paths. Connecting and collaborating with different people at TMBC showed me that people can have many different interests and are able to explore them in a variety of ways. This helped me realize that I should not limit myself by putting myself in a box.
The Myers-Briggs Company: Would you recommend this internship to other students? Why or Why not?
DeJohn: I would definitely recommend this internship to other students. It was a whole new experience for me. The space and culture is really open and people were so welcoming and reassuring and it felt like there was always somebody on my side to help and explain. I really appreciated Veronica particularly, as someone always available and to help me connect to other people and answer questions. I feel like that made my internship 10000xs better. I would really recommend it as my experience showed me that you can get so much out of it.
We'd like to thank all those involved in the internship, and DeJohn particularly for being such a great intern. Also, thanks to the team who made him feel so welcome and his experience such a positive and beneficial one: Veronica, Sam, Joyce, Andrei, and others.
It's a great example of how important internships are and how impactful they can be in shaping a person's future and their aspirations.