Using Personal Assessment Tools to Chart Your Path [Video]
Posted 20 July 2017 by
Global Marketing
What do you truly want to be when you grow up, regardless of where you are right now? Or how would you rather be earning a living? To find a career path, and ultimately a job that suits your interests and values, career counselors nationwide offer personality assessment tools such as the Strong Interest Inventory and the SuperStrong.
In "Going Strong," professional development experts (Catherine Rains, Karen Gonzalez, Darrell Mockus and Chris Mackey) explore how and why these assessments work, both for students who may be selecting majors or internships, and for adults who want more fulfillment in their professional as well as personal lives. Watch the video here.
The below video is a great way to get a first-hand feel about the Strong Assessment from the people most passionate about it. To learn more about the SuperStrong assessment on the VitaNavis platform (brought to you by CPP Innovation Labs), visit the webpage here.
"When you're starting off in life or even if you're in the middle of your career, you can learn a lot about yourself just by asking a few questions. Like what kind of hobbies you have, what kind of job titles interest you, what kind of physical tasks do you like to be doing, what kind of people do you like to be around. These questions tell you about your interests, and your vigor and persistence - the drive you have toward reaching those goals."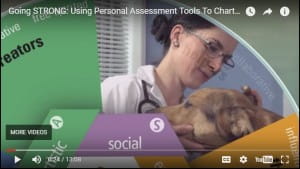 This video is published on UCTV, the University of California Television. University of California Television (UCTV) is a public-serving media outlet featuring programming from throughout the University of California, the nation's premier research university made up of ten campuses, three national labs and affiliated institutions.
Launched in January 2000, this academic initiative embraces the core missions of the University of California -- teaching, research, and public service -- through quality, in-depth television that brings to life the tremendous range of knowledge, culture and dialogue generated on UC's diverse campuses.
Reaching the public through cable, online, YouTube, iTunesU, Roku, and mobile apps, UCTV transports knowledge far beyond the campus borders and into the homes and lives of inquisitive viewers around the globe.
UCTV explores a broad spectrum of subjects for a general audience, including science, health and medicine, public affairs, humanities, arts and music, business, education, and agriculture. Program formats include documentaries, faculty lectures, research symposia, artistic performances and more.