Farming, Leadership Development and the TKI Tool
Posted 21 April 2016 by
Global Marketing
"Farming is a profession of hope."
― Brian Brett [Author]
In 1919, a small group of farmers from 30 states gathered in Chicago. Their goal – speaking for themselves and representing the needs and issues of fellow farmers through their own national organization. Not long after that initial meeting, the American Farm Bureau Federation became the voice of agriculture at the national level.
"The purpose of Farm Bureau is to make the business of farming more profitable, and the community a better place to live. Farm Bureau should provide an organization in which members may secure the benefits of unified efforts in a way which could never be accomplished through individual effort."
While issues and challenges have changed for America's farmers and ranchers over the past nine decades, the mission and goals of Farm Bureau have remained true to the spirit in the above quote from Farm Bureau members in 1920. One of the other things that hasn't changed over the decades is the need for leadership within the farming community. Among other tools, the Farm Bureau's leadership development programs utilize the TKI assessment to raise self-awareness of its members and strive for continuous improvement and development of its community. Take a look at the case study below from John Torres, the Director of Leadership Development for the Farm Bureau.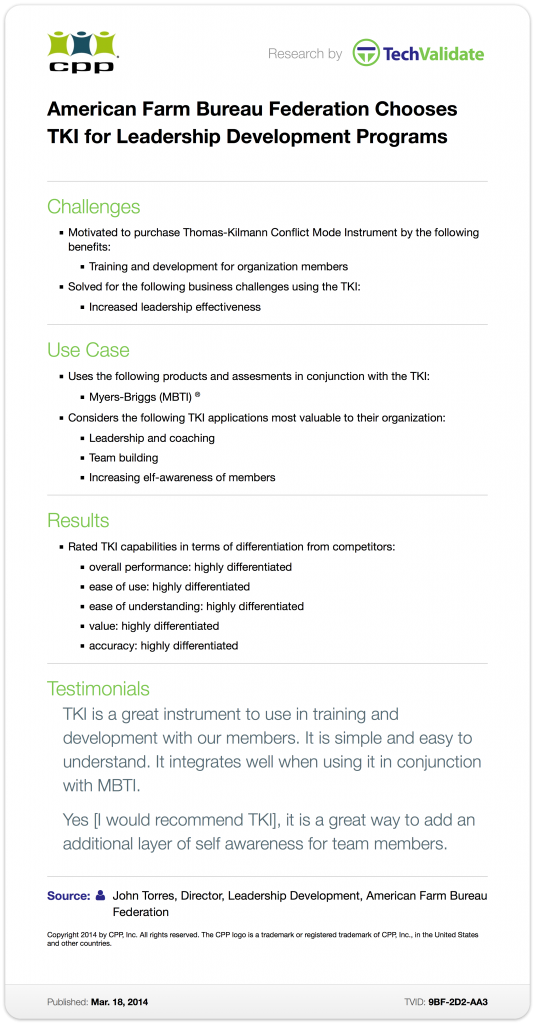 Learn more about the TKI assessment, view case studies and videos and download sample reports at www.themyersbriggs.com/Products-and-Services/TKI.
Learn more about the Farm Bureau's rich history and recent Smithsonian exhibit at fb.org.
TechValidate is a third party research firm that collects information from verified CPP customers, checks the accuracy and authenticity of the data and publishes statistics, deployment facts, and the unfiltered voice of the end-user, without any editorial/analyst commentary, to a research portal open to the public.