Anderson University Career Services Finds Success with Strong Tool
Posted 29 April 2016 by
Global Marketing
Ranked as one of the best regional colleges in the South by both U.S. News and World Report and The Princeton Review, Anderson University in South Carolina is a comprehensive institution offering bachelor's, master's and doctoral degrees in 36 majors and 38 concentrations. In addition, Anderson recently announced the creation of a new college to expand education in their health care programs with the College of Health Professionals, emerging June 2016, and including distinct areas of study in Nursing, Human Performance, and Physical Therapy.
Anderson University is committed to the success of its many diverse students who have just as many diverse interests. In her position as Director of Career Services, Kelly A. Bell manages the offering of many of the services that Anderson University offers in its Career Services Center and ensures they're continuing availability to students and alumni. Anderson University offers assessments to aid students in their career path and interest exploration in addition to other services such as:
Resume and Cover Letter Preparation Assistance
Job Search Techniques and Assistance
Interviewing and Networking Skills
Recruitment Activities (On and Off Campus)
Graduate School Information
Internship Information
On Campus Interviews
Read below how Kelly and Anderson University have found the Strong Interest Inventory to be a valuable part of their Career Services Center offering.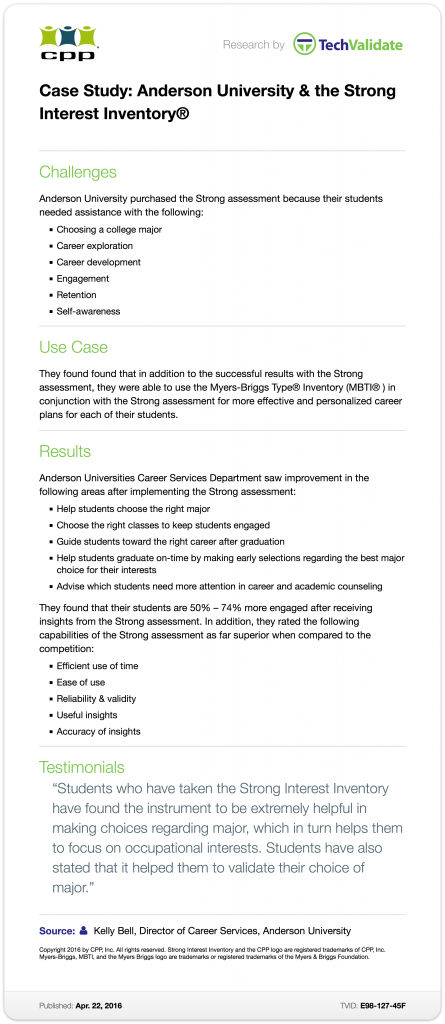 To learn more about the Strong Interest Inventory, visit www.themyersbriggs.com/Products-and-Services/Strong.
TechValidate is a third party research firm that collects information from verified CPP customers, checks the accuracy and authenticity of the data and publishes statistics, deployment facts, and the unfiltered voice of the end-user, without any editorial/analyst commentary, to a research portal open to the public.