Home
Company
500 Backpacks
The Myers-Briggs Company Employees Get Together for Backpack Drive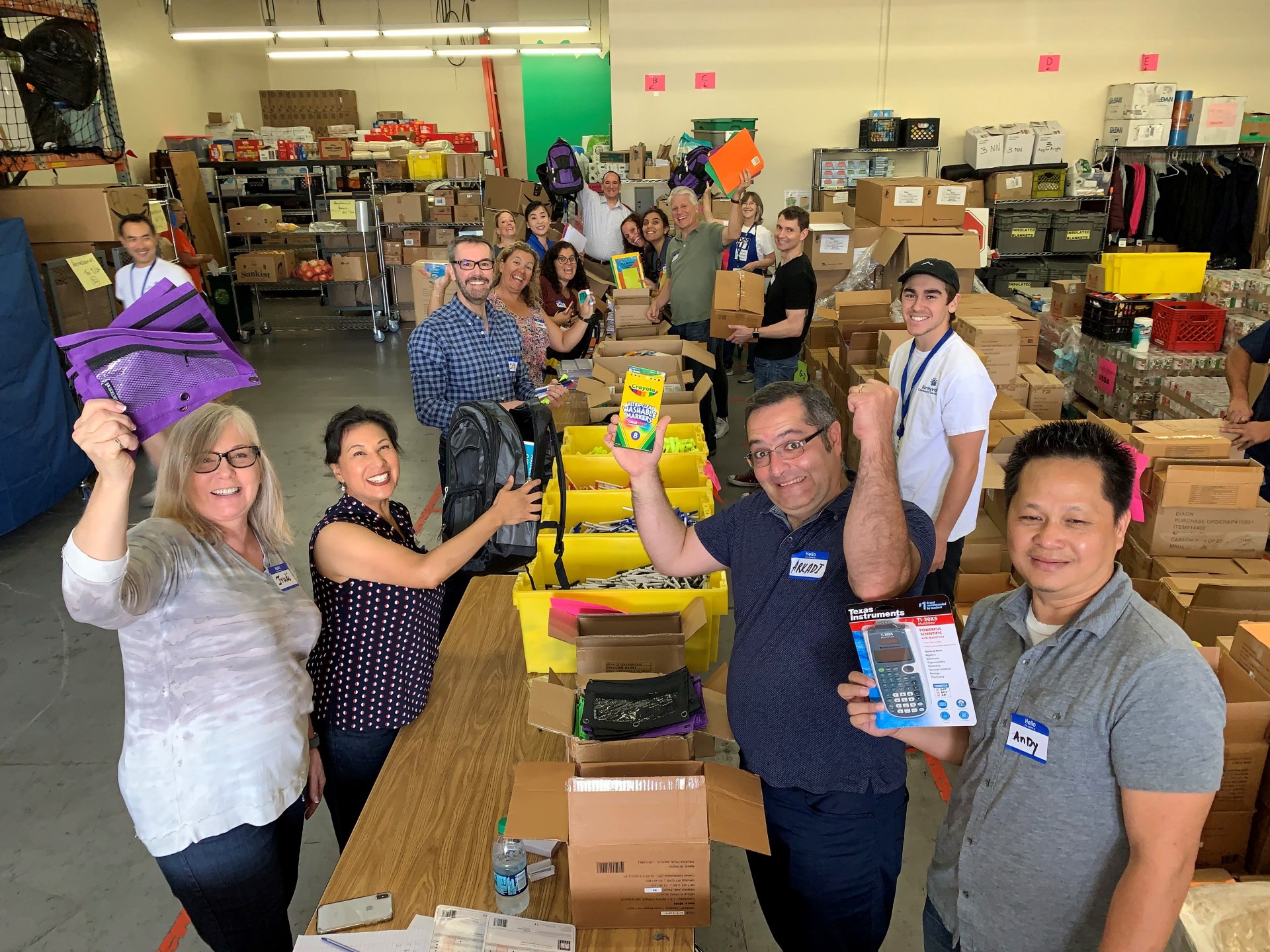 November 26, 2019
In Silicon Valley, the minimum cost of basic school supplies is up to $55 for elementary school students, up to $105 for middle school students and topping $221 for high school students. That may not seem like a lot spread over the year, but back-to-school supplies present a hardship for one third of Silicon Valley households that don't make enough money to meet their basic needs.
And that's where Sunnyvale Community Services steps in.
Every August, they give brand new backpacks filled the supplies to low-income local children from 5 years old to high school seniors.
But with only a few staff, Sunnyvale Community Services relies on in-house volunteers and corporate groups to organize, pack and distribute the backpacks.
Luckily the Sunnyvale Community Services building sits half a block away from The Myers-Briggs Company headquarter building. With away messages poised to respond in Outlook, a group of The Myers-Briggs Company employees took the 4 min. stroll over to help our neighbor make a difference in our community.
Here's what a few of the employees had to say about the experience:
"It was really nice to be alongside people we work with on daily basis, but in a totally different capacity and environment doing something different," said Tara, a Myers-Briggs Company employee. "Every backpack, paper & pencil case we touched was given to a student so they can feel like they belong and are equipped to start the school year on an even ground with their classmates. Knowing that we made over 500 students first day of school a little brighter made a really fun experience even more rewarding!"
In addition, VP of Finance Cal Finch said, "Volunteering at Sunnyvale Community Services with a group of colleagues was really fun. We spent a couple of hours on a production line stuffing back-to-school backpacks with school supplies for kids. It wasn't only rewarding knowing that we were helping kids get the school supplies that they might not otherwise have access to, but especially fun to have the opportunity to work side-by-side with others that I don't get the opportunity to work with on a regular basis. I'm looking forward to helping out with more events like this one."
"One of the tenets of being a B Corp™ is helping our community, and the fact that Sunnyvale Community Services is doing this crucial work in our own backyard made it an easy decision to help. Lending our manpower and support brings our employees together, helps our community and is one more step on our way to using business as a force for good," said Jeff Hayes, president and CEO of The Myers-Briggs Company.
We'll be putting the spotlight on more non-profits and #BCorp activities shortly, so check back soon!